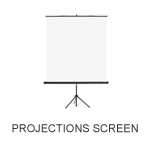 Projection screens are ideal both for the business presentations and lessons at schools and universities. High quality and great contrast of presented content are the strong assets of this product. The surface of the screen is made of Matt White material which allows its use in various lighting. The back side of screen is made of polyester covered with non-transparent black plastic coating. The Matt White surface provides the right light reflection and viewing angle, which makes the presented content perfectly visible.
Memoboards projection screens are available in two versions: wall / ceiling mount and portable one on tripod.
Wall/ceiling mount projection screen has a steel, solid cassette in white colour that protects the screen against dirt and damage. The cassette is equipped with a durable steel spring mechanism that locks the fabric every 13 cm. The screen can be fixed to both to the ceiling and to the wall using appropriate clips and connectors.
Mobile projection screen on tripod:
Steel, solid telescopic cassette in black colour perfectly protects the fabric against dirt and damage. The cassette is equipped with a very quiet roll mechanism. The black steel frame construction is mounted on a tripod trimmed with rubber anti-slip pads. Rack equipped with a height adjustment handle.
Uses
Memoboards projection screens are the perfect part of equipment of each conference- and class room. They are a perfect visual communication support. Thanks to wide range of sizes, they ideally fit both to smaller and bigger interiors.